Ft. Worth Eyebrow Microblading Perfection
Eyebrow Microblading is the newest technology in the beauty industry. It allows the microblade artist to draw natural looking eyebrow hair strokes with a semi-permanent pigment (lasts 1-2 years). The pigment is applied with a microblade pen, specially designed to create a very shallow scratch on the surface of the skin. Natural mineral and vegetable pigments are applied to this scratch. Because it is so shallow, the skin closes very quickly, trapping the pigment just beneath the surface, where it is visible through the transparent top layers. As the skin naturally exfoliates away, the pigment will gradually fade away. The pigment usually lasts for 1-2 years. Factors like sun exposure, and exfoliating skincare can also affect how long the pigment lasts. As the color begins to lighten, the client can some in for a touch-up session, to keep their eyebrows looking their best. Brows By Bodine eyebrow microblading studio is centrally located in North TX, with easy access from Dallas, Ft. Worth, and the entire DFW Metroplex.
| | |
| --- | --- |
| | |
Does Microblading Hurt?
No. With the correct topical anesthetics, and sufficient time for them to work, microblading can be completely comfortable. If you have heard stories of microblading being painful, the cause was most likely an artist who was not experienced enough to know which topical numbing product (lidocaine, benzocaine, or tetracaine, in a gel, cream, or oil base) is the most effective for each skin type (oily, combination, dry, sensitive, thin, thick, with large, medium, or minimal pores, etc…). It could also be that they did not allow enough time for the anesthetic to have its full effect. If the artist uses the right product, and allows enough time, then virtually every client can have an enjoyable and comfortable microblading experience.
Healing takes a week, on average. During the healing process, the client should be gentle with their brow area, and protect it with the moisturizing ointment that we provide.
We provide each client with detailed aftercare instructions. During healing, the client should avoid sun tanning, swimming pools and hot tubs (chlorine), saunas, long hot showers, and long sweaty workouts. These precautions help the brow area to heal quickly. When followed correctly, the healing process will involve little to no flaking, and minimal redness. You can go back to work the following day.
Eyebrow Microblading can give virtually anyone the beautiful and effortless brows that they want. It can add density to thin brows or adjust the shape of the brows to make them more aesthetic and youthful. It can add color beneath blonde or gray hairs, and even create brows from scratch for clients with total brow hair loss due to Alopecia, chemotherapy, thyroid conditions, or age-related eyebrow hair loss. It can also be applied over a faded eyebrow tattoo, for a more natural looking effect. The Brows by Bodine microblade salon is the premier studio in the Dallas, Ft. Worth Metroplex, for the best, artist-quality eyebrow microblading in North Texas. Microblading can make it easy to wake up every day, looking your best.
read more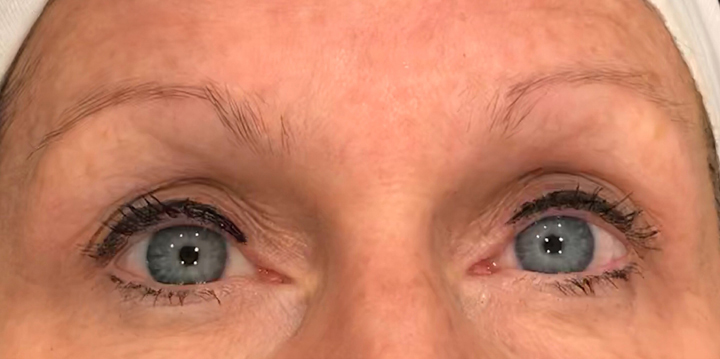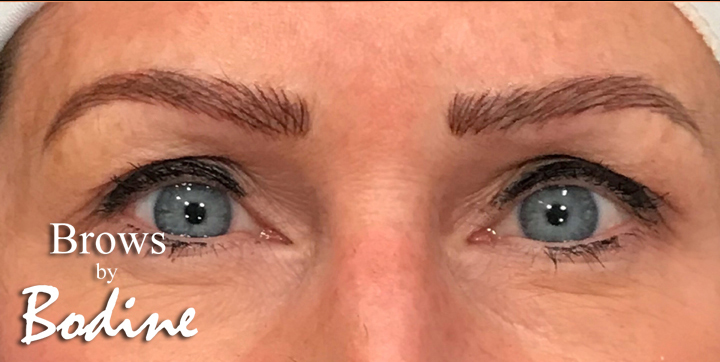 Microblading can be used to enhance an existing eyebrow, fill in an eyebrow that has less density due to hair loss, or that is not visible because of blonde or gray hairs. Microblading can create eyebrows from scratch, for a client who has total hair loss from Alopecia, thyroid conditions, or age related eyebrow thinning. The Brows by Bodine studio is located in the North Dallas area.
For more information, or to schedule
your appointment:
Please note, I keep my phone on silent when I am working, so you will most
likely get my voicemail. I'll return calls as soon as I am able.